The Path to Green Web Hosting
Green isn't just about powering system using green methods like solar or wind but there is another perspective to green computing or hosting.
"WHAT YOU ARE GOING TO READ FURTHER MAY SEEM FUNNY BUT IS SUBSTANTIAL IF YOU PUT YOUR MONEY MINDED BUSINESS IDEAS ASIDE AND LOOK TOWARD A HEALTHIER PLANET WITH TECHNOLOGY SIDE BY SIDE"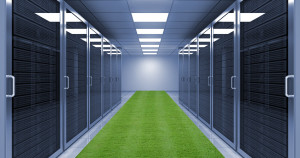 From where I can see, each system is made of electronic/electrical components at the base. Each 1 or 0 is stored in flip-flops or latches, whichever is the least unit to provide a potential difference between two points in electronic circuit.
Where ever the potential difference is, the system can understand it as 1 and if not then it understands it as 0.
For example if you see opening and closing of start menu as an 1 to 0 state operation then it generates potential difference between two such points with the use of flow of current.
Now suppose if we use 5 volts each time when we open start menu to generate this potential difference then more the number of times we press the start key without actual use or mistake is waste of power.
I suggest we start educating our customer toward optimal usage of resources by improving their web content & applications in such a manner that the operational power consumption can be reduced.
If each user is committed towards using lower resources then we can share same pool of resources for multiple users which in other way is probably being used by a single user if his web application or content is not optimum on resource grounds.
Also WE AS A HOSTING PROVIDER MUST NOT USE TOOLS AND APPLICATIONS TO PROVIDE HOSTING SERVICES WHICH AREN'T OPTIMAL IN PERFORMANCE such as any third party tool for the sake of running business even if it is written haywire and waste a lot of power in non needed operations at the back.
We shouldn't:
1. Use Extra server space if it isn't required.
2. Use extra processing power if it isn't required.
3. Use extra RAM if it isn't required.
4. Do needless operations on our web applications and clean up garbage and unused code/content from web.
We Should:
1. Promote the use of lowest TDP processors other hardware's, just not any to save money.
2. Need to Work on our maintenance schedules so to keep the hardware healthy, hence avoiding waste of power due to carbon and other means.
3. Promote green hosting by discounting/awarding customers who uses the best optimal resources for their application.
4. Improving airflow through servers which would allow operators to use higher cooling temperatures
We @ Belint Group are committed to a healthy planet and try the best possible in our capacity to contribute towards a green planet.